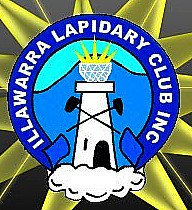 lapidary – (the word means "concerned with stones")
A person involved with lapidary is an artisan who practices the craft of working, forming and finishing stone, mineral,  gemstones, and other suitably durable materials (amber, shell, jet, pearl,  copal, coral, horn and bone, glass and other synthetics) into functional and/or  decorative and wearable, items (e.g. pendants, rings etc.).
The Illawarra Lapidary Club (ILC) was established in 1962 and promotes development of knowledge and skills in the craft of  Lapidary; collecting gemstones, mineral specimens, their identification,  cutting or presenting as display items or as finished jewellery.
The club is a  social organisation that has a number of activities for all club members.
fossicking for raw  specimens of minerals, gemstones and fossils.
Mineral Group of members  who study the nature and composition of minerals and gem stones.
Classes for cutting stones ie carving, facet and cabochon. There are also classes to make finished jewellery using silver fabrication, casting, wire wrapping, lamp work bead making and enamelling.
For up to date information and general interest see our Facebook page.
For inquiries about the club and its activities please use the club email address. Emails and Facebook are reviewed daily.
Business and Social meetings are held in the clubrooms in Tarrawanna and commence at 7.0pm (General business) and 8.0pm (Social) on the Third Wednesday of each month January to November. No December meeting.
The club shuts down over the summer months of December and January.
A 50th Anniversary booklet is available for purchase from the club ($10 per copy).