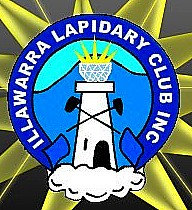 Member ship Fees:-
$10 – Joining fee
$20 – Member
$15 – Concession/Senior
$35 – Family (Inc 12 – 18 years)
$15 – Junior (12 to 18 years)
Compulsory additional annual
insurance fee of $4 is payable
For all Members.
For all classes and Mineral Group meetings an additional fee of $4 per session per member applies.
To apply for club membership please download and print the  .pdf  ILC Membership Form:-
Membership application May 2015
Send completed form and appropriate fee to:- 
Club Secretary
Illawarra Lapidary Club
PO Box 117
Corrimal
NSW 2518
From receipt of the completed membership form and fees the application is reviewed by the executive committee for approval.  The executive meet on the second Thursday of each month except December. On approval by the executive the secretary will invite prospective member(s) along to a general business meeting for induction into the club. General business meetings are held on the third Wednesday each month except December. On induction the prospective member is given a copy of the club rules, constitution etc. Only after induction can the prospective member attend any of the classes held by the club or participate in any of the other activities of the club.