The Illawarra Lapidary Club hold an annual Gem and Mineral show on the first full weekend of November each year. The club exhibits work carried out by members. There are items for sale, specimens and finished items, on club tables. A number of dealers are also selling various lapidary items, rough and finished stone, tools and equipment, etc.
The 2017 exhibition was held at the Ribbonwood Centre, Dapto on weekend of 4th and 5th November
The club held a raffle drawn in the exhibition hall on Sunday 5th November 2017 and all prize winners have received their prizes.
The prizes on offer for 2017 were:-
Past Exhibitions
Some of the 2016 photographs are available in the Gallery directory and on the club Facebook page.
Click onto the link for photographs of some of the showcases displaying specimens owned by club members and examples of the wide range of lapidary work completed by club members.
The 2015 Illawarra Lapidary Club Exhibition photographs
More photographs are available on our facebook page
2014 Exhibition Saturday 1st November and 2nd November –
Ribbonwood Community Centre, Dapto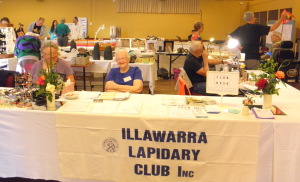 The exhibition photographs include many of the display cases and competition prize winning entries. They show the very wide range of activities undertaken and skills shown by members of the club.
2013 Exhibition Saturday 2nd November and 3rd November – Ribbonwood Community Centre, Dapto
Photographs from Illawarra Lapidary Club 2013 Exhibition
2012 Exhibition
For some photographs of the exhibition:- The 2012 Illawarra Lapidary Club Exhibition
Pictures of Dorothy Sefton Signing the 50th Anniversary book and trophy winners